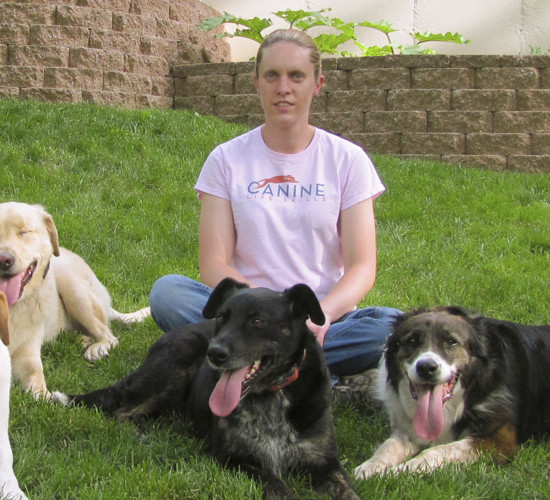 Diana Korenak
stldogadmin
Trainer
Dogs and animals have always been a part of my life.  During high school, I started volunteering at The World Bird Sanctuary working with raptors.  I then attended the University of Missouri-Columbia, where I majored in Wildlife and Forestry.  During school, I spent one summer training raptors for a Birds of Prey show at the Milwaukee Zoo, and I worked on several research projects involving wildlife and forestry.
After graduating with my Bachelor's in 2005, I moved to southern Mississippi to work as a forester.  Meanwhile, I started volunteering with the Humane Society of Louisiana taking care of the daily needs of the dogs and whatever else needed to be done.  I then followed my job to Arkansas, and I continued working with the local Humane Society where I cared for the dogs, coordinated adoption and taught the dogs very basic training.
Wanting to follow my passion and work more with dogs, I moved back to St. Louis in 2010.  I began helping out at Canine Life Skills and learning all I could about dog behavior and training.  I also started attending different seminars and reading more about balanced dog training.  In February 2012, I attended the E-cademy program and became certified in remote collar training.
After completion of the program in March 2012, I joined the Canine Life Skills staff.  I enjoy spending time with my dogs Rusty, Corbett, Roxy, and Zoe.